FALL 2019 TRAVEL TEAMS
ALL AGES FULL FALL 2019 – Please check spring league for next season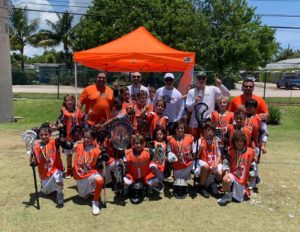 Miami Youth Lacrosse runs the most competitive travel program in the Miami area 
FALL PROGRAM DESCRIPTION:
Fall travel teams are for local players looking to raise their level of play while representing Miami at the top local & national tournaments.
*If you are new to lacrosse we suggest starting during our Summer Camp or Spring Youth League sessions.
Players are placed on teams based on skill evaluation. Space is limited to 150 players across all divisions for any season.
**********************************************************************************************************************
We will need to do all teams based on tryouts for this season
DIVISIONS:
U10 (Grades 3-4), U12 (Grades 5-6), U14B (2025), U14A (2024), JV (2022/23), V (2021/22)  
HIGH SCHOOL TRYOUTS (2021 / 2022 / 2023)
Dates: Sep 18, Sep 23 & Sep 25
Times:  8 – 10pm
Location: Tropical Park (Stadium)
YOUTH TRYOUTS (U14 / U12 / U10)
Dates:  Sun, Oct 20 (6 – 8pm) & Mon, Oct 21 (5:30 – 7pm)
Location: Armbrister Park (Coconut Grove)
PRACTICE DATES:
Monday's – 10/21, 10/28, 11/4, 11/18, 12/2, 12/9
Wednesday's – 11/13, 11/20, 12/4, 12/11
Times:
U10/U12/U14 – 5:30 – 7pm
High School – 7 – 8:30pm
Location: Armbrister Park – 4000 Grand Ave., Miami, FL 33133
TOURNAMENTS:
FL Elite Cup – Nov 16-17 (Delray Beach) – all teams
Autumn Gold Showcase – Nov 24  (Baltimore, MD @ Towson University) – HS Teams 2021 & JV
Jingle Brawl – Dec 14-15 (Tamarac) – U10 / U12 / U14
**********************************************************************************************************************
COST:    
High School National Teams:  $750 ($75 tryout fee + $675 team fee if selected)
Youth (U14 / U12 / U10) Teams:  $475 ($75 tryout fee + $400 team fee if selected)
DEADLINE TO REGISTER FOR TRYOUTS:  HS (Sep 15th)  –  Youth (Oct 1st)
Players must provide full equipment – Cost includes practices, uniform, tournament fees, and coaches – Personal travel expenses are the responsibility of each player
No refunds for tryout fees
ALL PLAYERS MUST BE US LACROSSE MEMBERS
REGISTRATION MUST BE COMPLETED ONLINE: