FALL 2018 TRAVEL TEAMS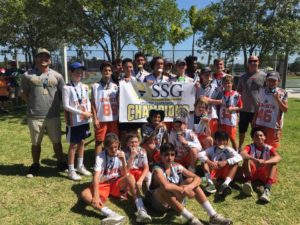 Miami Youth Lacrosse runs the most competitive travel program in the Miami area 
FALL PROGRAM DESCRIPTION:
Fall travel teams are for local players looking to raise their level of play while representing Miami at the top fall tournaments in Florida.
Players are placed on teams based on skill evaluation.  Space is limited.
U10 (2027/2028/2029), U12 (2025/2026), U14 (2023/2024), JV & V (2019/2020/2021/2022) teams available.
**********************************************************************************************************************
EVALUATION & PRACTICE SCHEDULE:  
LOCATION: Armbrister Park (4000 Grand Ave., Miami, FL 33133)
TRYOUTS – SUNDAY, OCTOBER 14  &  MONDAY, OCTOBER 15
PRACTICES:  
U10 / U12 / U14: 5:30 – 7pm
JV & V: 7 – 8:30pm
TOURNAMENTS
TBD
**********************************************************************************************************************
Costs:  $450 U12-HS / U10 $250   
Players must provide full equipment – Cost includes practices, uniform, tournament fees, and coaches – Personal travel expenses are the responsibility of each player
No refunds after team is selected or 1st day of practice (whichever comes first)
ALL PLAYERS MUST BE US LACROSSE MEMBERS
REGISTRATION INSTRUCTIONS ON WAIVER
2018 FALL WAIVER (Click Here
to Download)