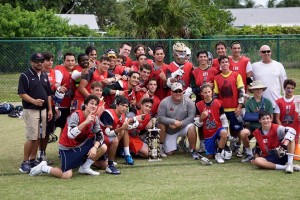 Miami Youth Lacrosse is a member of the South Florida Youth Lacrosse League.  
We run youth teams for boys from January – April that compete in the league.
More info on the South Florida Youth Lacrosse League can be found by (clicking here)
SPRING 2019 – YOUTH LEAGUE
REGISTRATION OPEN (teams will fill quickly)
SPACE IS LIMITED – U8 teams 15 max, all others 25 max – Last update 1/7/19
BOYS DIVISIONS:
U8 (Grades 1-2) – 2 spaces left
U10 (Grades 3-4) –  *2nd Team has been opened (12 spaces left)
U12 (Grades 5-6) – *2nd Team has been opened (16 spaces left)
U14 (Grades 7-8) –  3 spaces left
Practices:  Monday & Wednesday
U8/U10 – 5:30 – 7PM
U12/U14 – 7 – 8:30PM
Games:  Saturday's (played throughout the tri-county area)
IMPORTANT DATES:
Jan 23, 2019 – Coaches Meeting (6:30-7:30pm)
Jan 28 & Jan 30 – New Player Clinics (6-7:30pm)
Feb 4 – 1st Practice
Feb 16 – 1st Game
Apr 13 – Last Game
Field:  Armbrister Park
4000 Grand Avenue Miami, FL 33133
Cost:  $350
*********************************************************************************************************************************
REGISTRATION INSTRUCTIONS:
Players must provide full equipment – One team per age group – Cost includes uniform, practices, game & league fees – Personal travel expenses are the responsibility of each player
No refunds after 1st Day of Practice (Feb 4)
This league is 100% volunteer parent coached.  If you are interested in coaching please fill out Coaches Application below and send with your registration.  Thank you!
Please see our FAQ Page (click here) if you are NEW to Lacrosse!
ALL PLAYERS MUST BE US LACROSSE MEMBERS
REGISTRATION MUST BE MAILED IN (INSTRUCTIONS ON WAIVER)